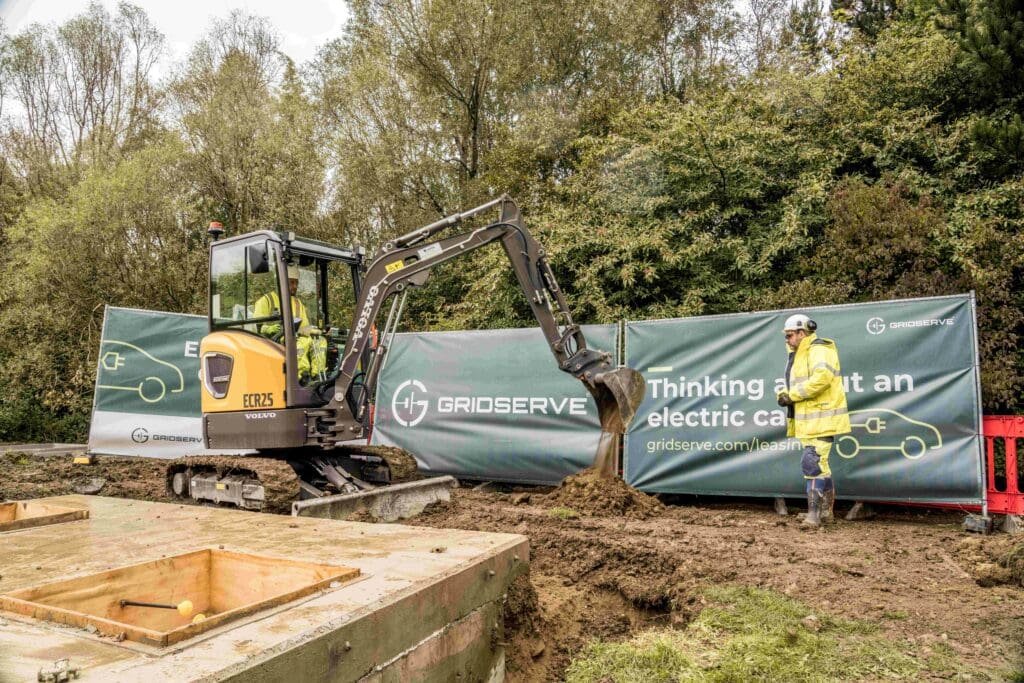 Another week and it seems the green ribbon on yet another newly opened GRIDSERVE Electric Super Hub has just been cut. People of Darlington, say hello to 12 of the finest High Power EV charging bays now available at Moto Scotch Corner on the A1(M), including a pair of super-wide accessible bays.
Of course, we're working at this speed and scale to ensure anybody, anywhere in the country, feels confident about making the switch to an electric vehicle in the shortest possible timeframe. But we also want to facilitate future travel without wrecking the planet.
And with this in mind, the development at Moto Scotch Corner is worthy of closer inspection. Not only because it's helping to bring EV charging confidence to the north, joining the A1(M) dots between our other recently opened Electric Super Hubs at Moto Grantham, Blyth, Ferrybridge, Wetherby, Leeming Bar and the Washingtons (northbound and southbound). But also because it was a trial site for the exclusive use of electric excavators during construction.
We're in the simultaneous (and sometimes uncomfortable) pursuit of cutting emissions while using virgin materials to build new EV charging infrastructure and while we need time to figure out decarbonising the big stuff – hey, concrete – we can avoid creating greenhouse gas emissions today by simply electrifying the transport and machinery we're using. You'll know that our development teams already drive electric cars and vans, but electrified construction equipment is a reality now, too.
Meet our electric excavator
Volvo has a solid reputation for safety, innovation, reliability and environmental awareness, but did you know it also makes electric diggers? This Volvo ECR25 Electric excavator (pictured) is a perfect fit for our construction teams and at Moto Scotch Corner, we used it to dig trenches for all the power banks, transformers, charging units and cabling. Traditionally, this has been work performed by a diesel-powered excavator. A big, noisy, smelly diesel-powered excavator.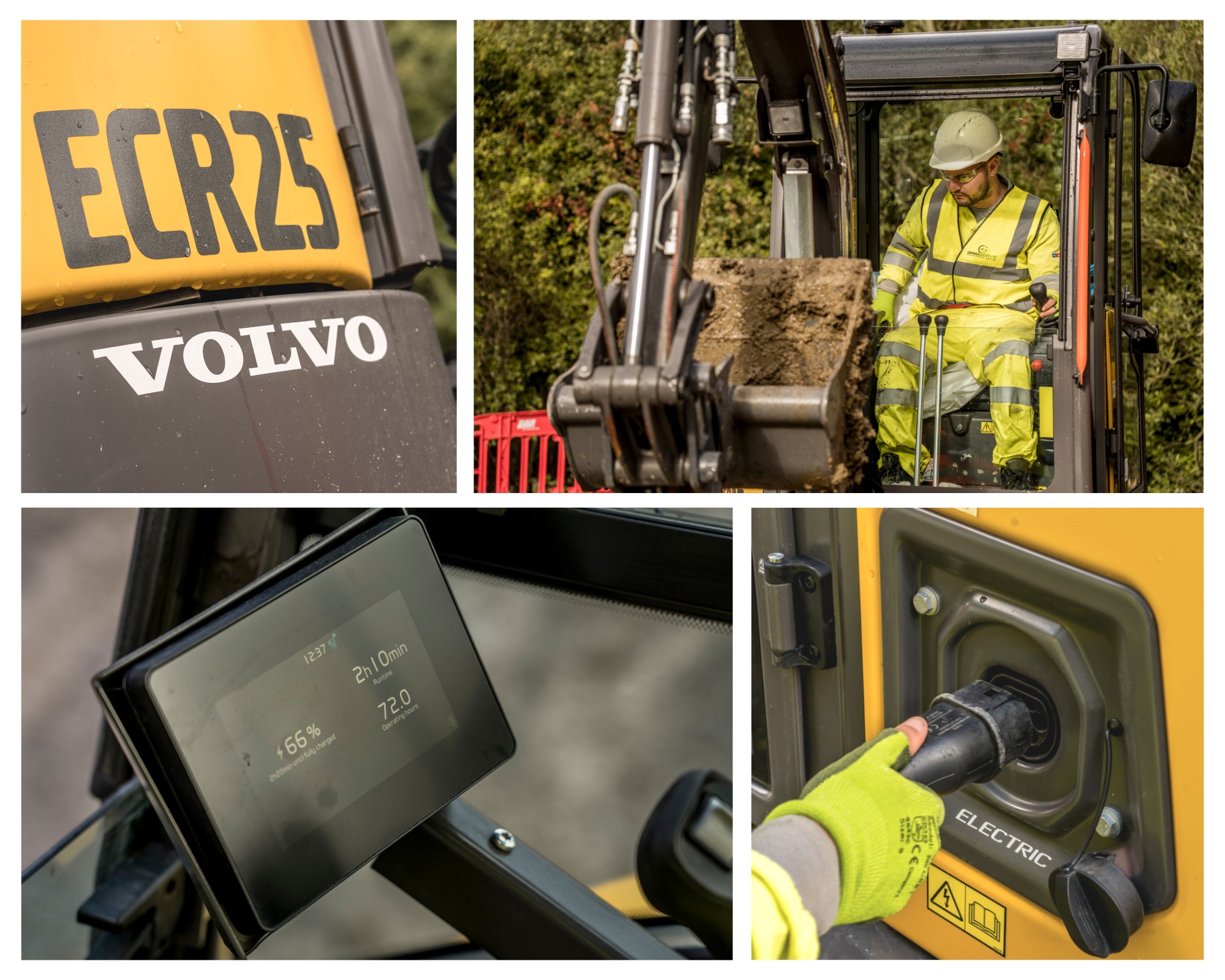 We spoke to Taylor Mence, our ECR25 operator, and he was pretty stoked: "This has been my first time operating an electric excavator and it has the same pull and power of an equivalent diesel machine, just without the fumes and the noise. That makes it less tiring to operate, and much easier to communicate with the team." That lack of noise also proved invaluable to our supportive landowner, Moto, who continued throughout construction with business as usual, welcoming thousands of guests to its service area and accompanying Travelodge.
In terms of work rate, the 20kWh battery helps this Volvo excavator shift tonnes of soil for four hours flat before needing to plug in and recharge for an hour. On a typical site day, our team never got close to depleting the battery, so would simply plug in and charge overnight.
Zero carbon energy
To guarantee the electric excavator was powered sustainably throughout the entire construction phase, we plugged the unit into our Solar Energy Centres (SEC). Developed by GRIDSERVE Technologies and resembling a very large white wardrobe, they're basically miniature power stations that work off-grid.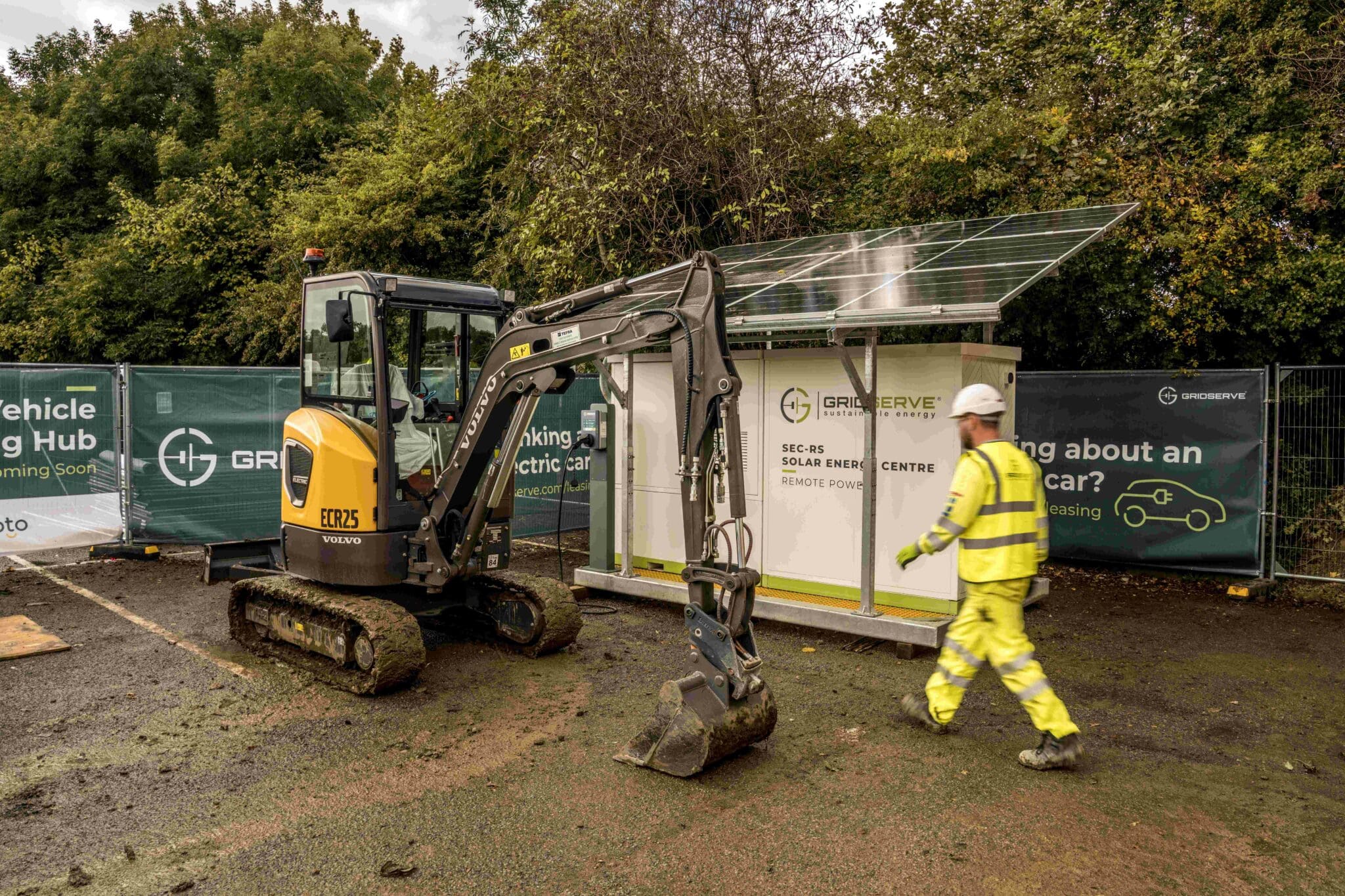 The modular design integrates solar and battery storage, features remote monitoring and uses a predictive energy management system that takes into account weather and usage patterns. In a 'no sun for days' worst case scenario, there is even an emergency back-up generator that is powered by hydrotreated vegetable oil (HVO) – compared to diesel, HVO can cut CO2 emissions by up to 90 percent.
"We're committed to leading the construction sector by example, setting stretching targets for decarbonisation and environmental action within our own work," explains Richard Hallas, Chief Delivery Officer. Richard is a straight-talking Yorkshireman that clearly has no time for lip service corporate social responsibility stuff, but actual outcomes that can be measured and reported. Ideas are easy. It's how you make things happen that really matters. "The ultimate objective is achieving carbon neutrality," Richard says.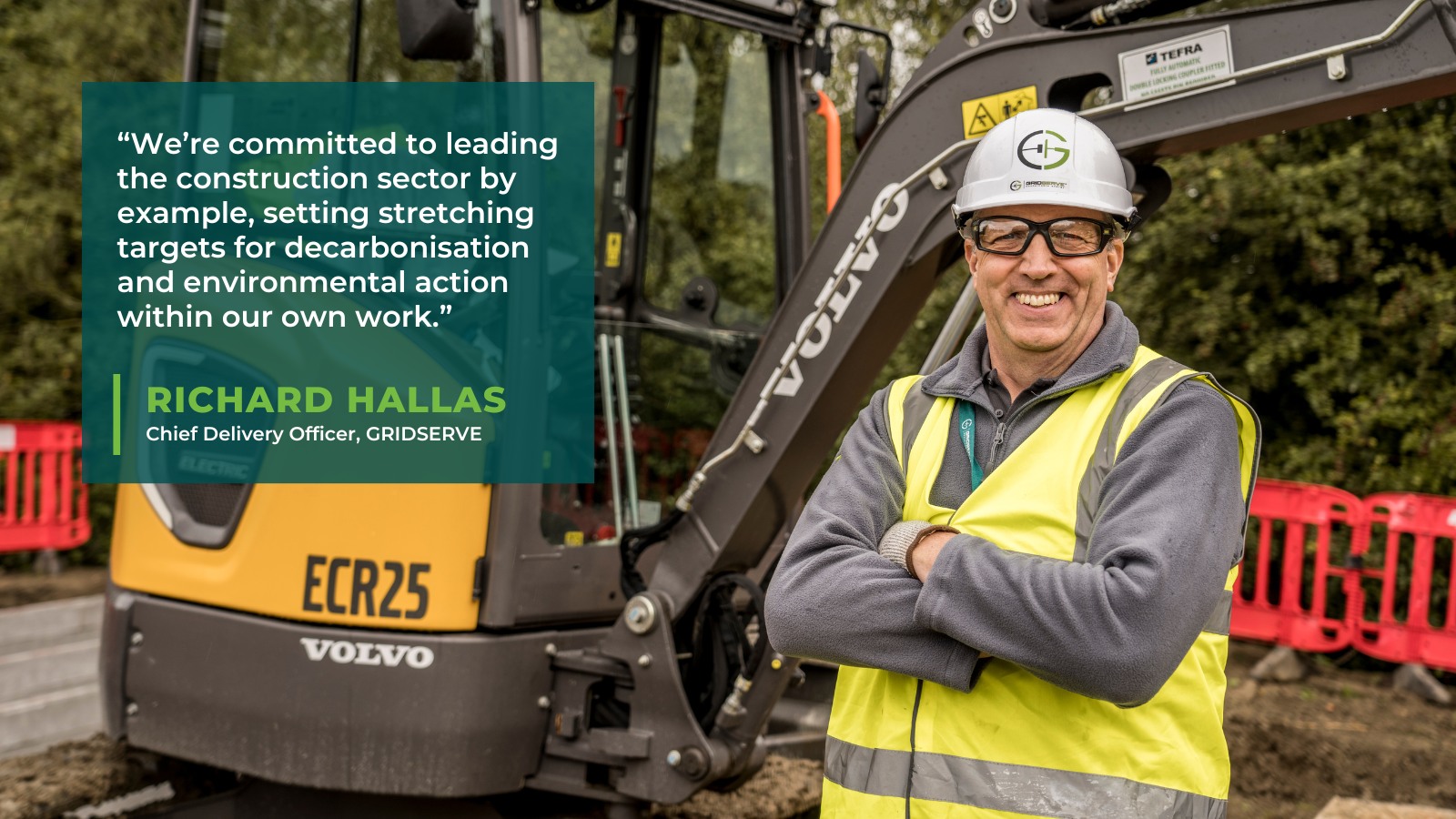 Embodied carbon emissions – think all the emissions from the construction materials, the building process, the fixtures and fittings used in delivering an Electric Super Hub or Electric Forecourt® – are not required by current policy to be assessed or controlled, but it's something GRIDSERVE is attempting to measure on a voluntary basis.
Of course, there remains some hard to abate emissions within the construction sector that will make Richard's ultimate objective a real challenge. Cement may be a wonder product that works mainly as a binder in concrete, but its creation is dirty business, accounting for seven percent of global CO2 emissions. For every ton of cement that is produced, nearly the same amount of carbon dioxide goes into the atmosphere.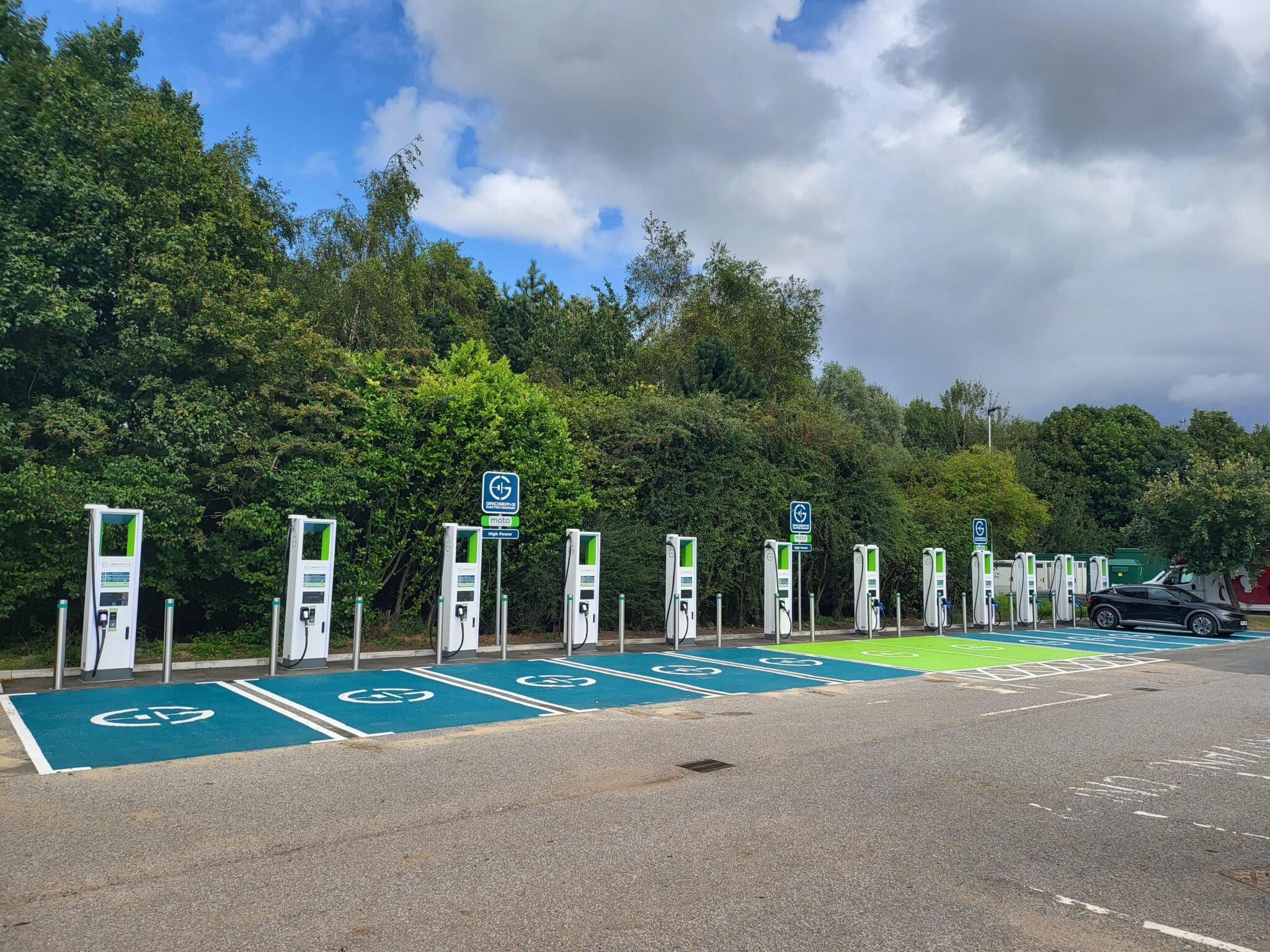 Yet as we continue to install more Electric Super Hubs across the country, our construction team continues to monitor what's happening in the supply chain and what is available to us to further reduce our environmental impact. Electric excavators are a great first step, but our processes will continue to be focussed on using less, wasting less and sourcing what we can sustainably.