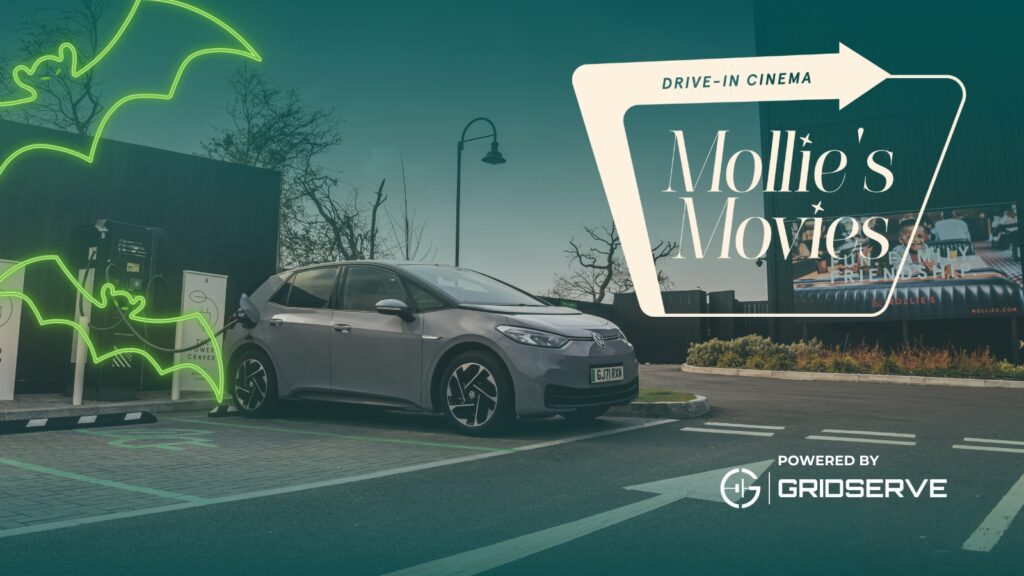 Making the switch to an electric car can be a voyage into the unknown if all you've ever driven is a petrol or diesel-powered vehicle.
You're probably expecting nightmare scenarios of running low on battery and being unable to plug in because you're not a member of a particular Electric Vehicle (EV) charging network. Or perhaps you're worried you won't get home before dark because you have to divert into the back of beyond, slow charging in some dimly lit, anonymous car park.
It's completely normal to feel like that, but we're here to remind you that these worries are all ghostly apparitions. In fact, the transition doesn't need to be scary at all, especially with GRIDSERVE. 
Life with an electric car really can be all treat and no trick. But don't just take our word for it; why not come and try out an electric car for yourself?
This Halloween, we're running an EV test drive event at Mollie's Motel & Diner in Bristol and Oxfordshire. We'll have a range of the best-selling electric cars available to try on 28/29 October, with our EV experts on hand to answer any of your questions.
We know that nine out of 10 won't commit to making the switch without first getting behind the wheel, so test drives are a perfect way to experience the best of electric: smooth, comfortable and quiet on the move with instant acceleration.
What are you waiting for? Book your slot here.
Not sure what to look out for when test driving? To help, we wanted to share a brief checklist that our car testing team use to inform their expert reviews and, we hope, get you one step closer to your dream car.
Is it big enough inside?

Is the boot the right size and shape?

Are the seats comfy?

D

oes the range match your daily driving?

Do you need performance or comfort?

Is it easy to park where you need to?

Is the technology useful and straightforward?

Is the charging port in a convenient place?
And if you're ready to make the switch, head over to GRIDSERVE Car Leasing to discover some spook-tacular deals.
Our frighteningly good Electric Forecourts®
Of course, once you've selected your dream car with the help of GRIDSERVE's EV experts, we'll be able to support you with a nationwide public charging network that offers 'plug in and pay' simplicity. No membership fees, no annoying apps to download, you just plug in and use your credit card, Apple Pay or Google Pay to tap against the contactless payment terminal.
Our award-winning Electric Forecourts®, located in Braintree, Norwich and soon, London Gatwick, also benefit from a host of amenities including plush lounge spaces, coffee shops and rentable office pods, so you can maximise your time with us.
With brand agnostic test drives, curated EV leasing deals and award-winning EV charging infrastructure, GRIDSERVE is very quickly becoming the UK's one-stop, hassle-free shop for everything you need to go electric.